Traffic Mirrors
The TÜV and wind load certified traffic mirrors are offering due to the expanded range a solution for all needs. Dancop does not use inferior raw materials in these areas, since safety must always be ensured, especially in road traffic. The use of poor raw material leads to negative distortions of the mirror images, which do not provide any help for the driver and only make the situation worse. The range of this assortment goes from the standard traffic mirror in the qualities acrylic, polycarbonate or inox up to 360° wide angle mirrors, heated or anti-condensation mirrors. Also the reflectors on the mirror frame are made of a high quality material so that the mirror quickly attracts attention. Dancop is the only manufacturer on the market who can offer TÜV certified and windload certified products. You can rely on our quality which is tested and certified annually from the TÜV.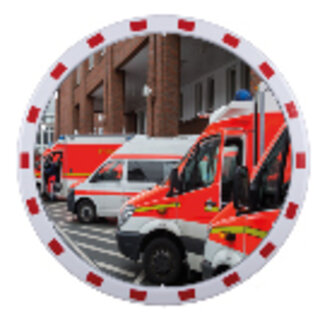 EUvex Traffic Mirror
The EUvex Traffic Mirror increases safety on roads and premises.
More information
EUvex Miroir d'agglomération ECO noir & blanc
Special version of the ED for france only!
More information
EUvex Universal Mirror
The EUvex Universal Mirror is equipped with a white frame and can be used in various places and for a high range of purposes.
More information