Your Safety – our functional guarantee of 2 years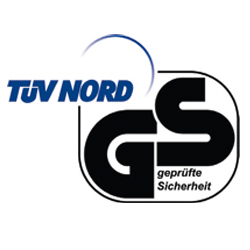 The BM 360° dome mirror offers a brililiant 360° view and is therefore especially useful for surveillance of shops. The mirror is a cost-effective and efficient method to prevent theft.
Material
The TÜV-certified BM 360° is made of light and impact resistant acryl (70% more impact resistant than glass) or almost indestructible polycarbonate. It has a light weight and a long life duration. Due to its material it can be used in the food processing industry.
Fixing
The mirror can either be fixed directly on a wall or ceiling (there are predrilled holes in the border of the mirror) or it can be fixed with chains on the ceiling. The chain set can be purchased separately.
Models and dimensions
| Article No. | Size | Material | Weight | Viewing distance |
| --- | --- | --- | --- | --- |
| BM 50-3 | 360° – 50 cm | Acrylic | 0,95 kg | 3-15 m |
| BM 60-3 | 360° – 60 cm | Acrylic | 1,1 kg | 16-20 m |
| BM 80-3 | 360° – 80 cm | Acrylic | 1,5 kg | 21-30 m |
| BM 90-3 | 360° – 90 cm | Acrylic | 2,3 kg | 31-40 m |
| BM 100-3 | 360° – 100 cm | Acrylic | 2,8 kg | 41-50 m |
| BM 125-3 | 360° – 125 cm | Acrylic | 4,2 kg | 51-60 m |
| BM PC 50 | 360° – 50 cm | Polycarbonate | 0,95 kg | 3-15 m |
| BM PC 60 | 360° – 60 cm | Polycarbonate | 1,1 kg | 16-20 m |
Certificates
Product video