Your Safety – our functional guarantee of 5 years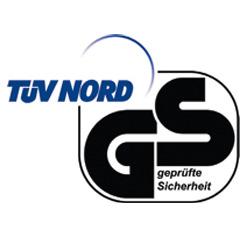 The TM traffic mirror is recommended for increased traffic safety in streets, minor roads and smaller lanes with sharp bends where blind spots are a common hazard. It can be used as well at industrial areas where road users and pedestrians are in risk of accidents. Due to the applied reflective film on the front side of the frame the risk of accidents can be minimized especially in bad weather conditions and at night.
Material
The mirror is produced into three different impact resistant materials: acrylic (70 % more impact resistant than glass), almost indestructible polycarbonate or inox. All versions are equipped with reflective foil type RA2 of 3M and all are Tüv certified. The version made of almost indestructible polycarbonate is particularly suitable for vandalism-endangered areas. Due to its weather-resistant materials the mirror is especially suitable for a long-term outdoor use. The mirror is fixed with silicone in a solid UV-resistant frame with extra strengthening on the back side. The silicone avoids the penetration of water and thus protects the mirror for a long time.
Fixing
A 4-point ball joint mounting bracket is included in the scope of delivery. This special bracket makes an optimal fixation of the mirror possible. The mirror can be positioned at different angles for every application. The solid bracket resists strong winds (it is wind load-tested up to force 12 wind – hurricane > 117 km/h) and can either be installed directly on a wall or a post mounting (Ø 50-85 mm).
Models and dimensions
| Article No. | Size | Material | Weight | Viewing distance |
| --- | --- | --- | --- | --- |
| TM INOX 60 | ø 60 cm | INOX | 8,3 kg | 9-15 m |
| TM INOX 80 | ø 80 cm | INOX | 10 kg | 15-22 m |
| TM INOX 40 X 60 | 40 x 60 cm | INOX | 10 kg | 9-15 m |
| TM INOX 60 X 80 | 60 x 80 cm | INOX | 12,1 kg | 15-22 m |
| TM AC 60 | ø 60 cm | Acrylic | 5,2 kg | 9-15 m |
| TM AC 80 | ø 80 cm | Acrylic | 7,6 kg | 15-22 m |
| TM AC 40 x 60 | 40 x 60 cm | Acrylic | 5 kg | 9-15 m |
| TM AC 60 x 80 | 60 x 80 cm | Acrylic | 8,8 kg | 15-22 m |
| TM AC 80 x 100 | 80 x 100 cm | Acrylic | 12,0 kg | 22-27 m |
| TM AC 100 x 120 | 100 x 120 cm | Acrylic | 15 kg | 27-32 m |
| TM PC 60 | ø 60 cm | Polycarbonate | 5,1 kg | 9-15 m |
| TM PC 80 | ø 80 cm | Polycarbonate | 7,5 kg | 15-22 m |
| TM PC 40 x 60 | 40 x 60 cm | Polycarbonate | 5,2 kg | 9-15 m |
| TM PC 60 x 80 | 60 x 80 cm | Polycarbonate | 6,3 kg | 15-22 m |
| TM PC 80 x 100 | 80 x 100 cm | Polycarbonate | 12,5 kg | 22-27 m |
Assembly instructions
Video – assembly of the bracket (rectangular mirror):
Video – assembly of the bracket (round mirror):
Product video